About US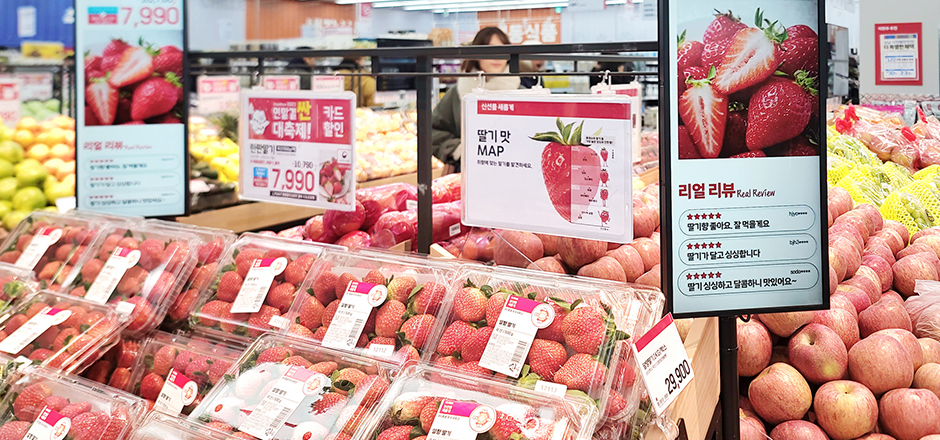 Fresh products
Friendly neighbors LOTTE Super is Korea's No. 1 supermarket corporation. With its mission to provide every kind of community with easy, local access to a supermarket, LOTTE Super operates a variety of stores: the country's first flat-price fresh food market, Market 999; urban retailer LOTTE MySuper; LOTTE Premium Food Market; Korea's first-ever supermarket specializing in frozen food, LOTTE Freezia; an online mall; and LOTTE eSuper, all of which are tailored to their respective commercial zone.

In addition, LOTTE Super continuously strives to satisfy customers with a diverse range of products and services that includes various PB (Private Brand) products, such as its single-meal series for people living on their own, and its "Face Series," which places value on food quality and safety.
CEO

Kang Jong-Hyun

Date of foundation

2001.5.16

Major Business

Supermarket

Address

3F-4F, LOTTE Castle Gold, 269, Olympic-ro, Songpa-gu, Seoul

Phone

(+82)-2-2290-5600
Major products and services

Diverse omni-channel services

As the first in the industry to develop a mobile app, LOTTE Super made it possible for orders to be made regardless of time or location. It also operates "LOTTE Fresh Center," an online-exclusive shipment center, which guarantees the arrival of shipments within 3 hours of placing an order.

value products

LOTTE Super provides reliable products, including its line of "single meals," which come in smaller quantities; its "Face" series, which displays the producer's face on the packaging; and "Dawn Vegetables," farm produce that is harvested at dawn and sold that afternoon.

Young Farmers and
Youth Workers

LOTTE Super has implemented a "Youth Workers" system to solve job shortage issues for senior citizens, and the "Eco-Friendly Young Farmers Development Project" to create more job opportunities for the younger generation and nurture sustainable and eco-friendly agriculture.