About US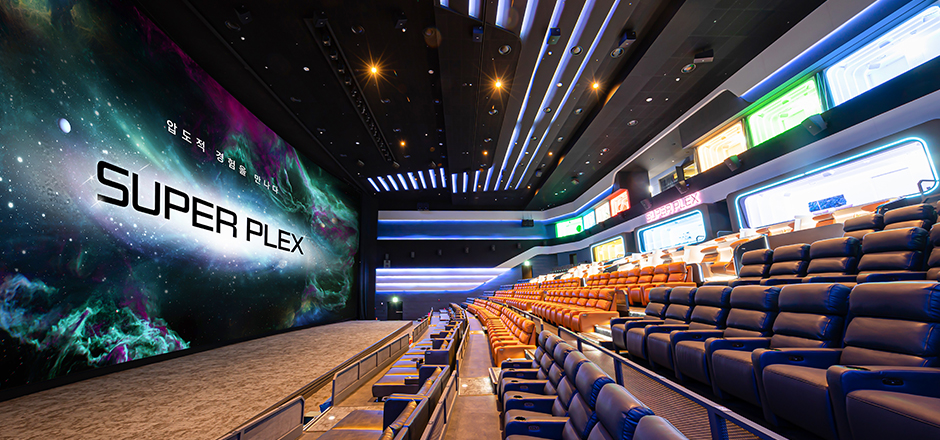 Our multiplexes bring you happy memories filled with joyful cultural and life experiences Since its foundation in 1999, LOTTE Cinema, a multiplex movie theater, has aimed to become a cultural complex that combines movie watching, shopping, and dining. Through more than 800 screens in 110 theaters as of 2017, it delivers moving and exciting experiences to audiences.
CEO

Byung Hwan Choi

Date of foundation

1999.9.9

Major Business

Multiplex movie theater

Address

27th Floor, LOTTE World Tower 300, Olympic-ro, Songpa-gu, Seoul 05551, Korea

Phone

(+82)-2-1544-8855
Major products and services

Movie theaters

Entering the movie theater business in 1999, LOTTE Cinema is the leader in multiplexes in Korea, operating more than 800 screens at 110 theaters around the country. In 2014, it opened "LOTTE Cinema World Tower," Asia's largest movie theater and home to the biggest, Guinness-world-record-winning screen in the world. LOTTE Cinema also operates 230 screens at 40 movie theaters in overseas locations, including China and Vietnam.

Charlotte Theater

Charlotte Theater is the country's first-ever theater exclusively for musicals. With 1,200 seats, Charlotte Theater provides unmatched satisfaction to audiences through the most advanced systems and facilities, a prestigious exterior and interior with a medieval European vibe, and other elements expected of a musical-exclusive theater. Starting with "Lion King," the venue has staged various international masterpieces, such as "Mamma Mia," "Cats" and "Dream Girls," and also participates in producing and investing in famous global musicals.

Investment and distribution of films

LOTTE Entertainment conducts tasks related to the investment, distribution, import and export of a number of films each year and, with the goal of becoming Asia's No. 1 entertainment company, it aims to continuously promote the movie theater's overseas expansion efforts, as well as expand its film investment and distribution activities.